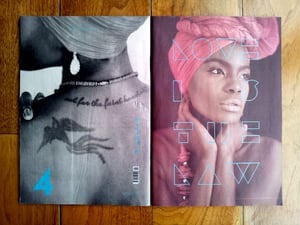 £

5.00
You may have heard of the Noisettes: they have been hailed as the UK's BEST LIVE ACT. With Cultural Olympiad Endorsements and major campaigns following suit, we figured this was the perfect moment to introduce Shingai Shoniwa, lead singer, and soon to be solo artist.
We worked tirelessly with Shingai to bring you an issue truly reflective of her spectrum of inspirations and styles. As co-curator Shingai also produced a mixtape called Tropical Metropolis AF9000 which is audible on soundcloud NOW
https://soundcloud.com/love-is-the-law-magazine/sets/litl-mixtape-4-tropical
Marques Toliver joins Shingai for our cover and in some intimate New York Reportage shots from the streets outside Paloma Faith's apartment, where creativity is bubbling and music is the breath of life.
Daniel Lumbini of the Rook & Raven Gallery joins us for the second Gallery curation inside the magazine, and we are proud to include a very groundbreaking interview with top British Artist, Matthew Stone.
We hope you enjoy
'Dystopia'